Native American brothers Patrick (bass and vocals) and Candido "Lolly" Vasquez-Vegas (guitar, sitar and vocals) were born in Coalinga, California. Developing as musicians at an early age, the brothers played with Canadian jazz pianist Oscar Peterson at the Monterey Jazz and Pop Festival before relocating to Los Angeles in 1963. They first performed as the Vegas Brothers, then later as the Crazy Cajun Cakewalk Band, then the Avantis. The brothers attempted to cash in on the surf craze popularized by Jan and Dean and the Beach Boys, with such songs as "Gypsy Surfer" and "Wax 'em Down" on the Chancellor label, and "The Phantom Surfer" on the Regency label. The Avantis featured future Beach Boy drummer Mike Kowalski, and their recordings earned them an opening slot on a Beach Boys' tour.
The Vegas brothers also recorded the singles "Let's Go" as the Routers, "Surf Stomp" and "Batman" as the Markets, and "Hotrodders' Choice," "Dawn Patrol," "Double A Fueler," and "Satan's Chariot" as the Deuce Coupes. The 1963 Deuce Coupes' sessions featured impressive session help from the great Glen Campbell, David Gates, and future Rock and Roll Hall of Famer (and inspiration to Elton John), Leon Russell. In 1964 the Vasquez brothers recorded as the Sharks, releasing the singles "Big Surf" and "Robot Walk." Pat Vegas went on to co- write the theme song to "The Munsters" television show.
Pat and Lolly performed throughout the 1960s on the Las Vegas Strip. They were well received there – and by the southern California music community, and performed at an amazing number of local LA clubs, such as The Prelude (opening for Redd Foxx), The Peppermint Tree (where lines formed for blocks to hear them), The Haunted House, The Million Dollar Club, Gazzari's (where they became the 3 year house band at a club where every music luminary came, and again , lines formed for blocks to hear them). The Doors were on that same scene. They opened for Lenny Bruce, as well as Richard Pryor, while writing and playing on records by Tina Turner, Sonny & Cher, James Brown, Little Richard, Elvis ( on the soundtrack to the film "Kissin' Cousins"), among other legendary recording artists.
While the resident musicians at The Haunted House the Vegas brothers released their first full-length album, "Pat and Lolly Vegas at the Haunted House", produced by Leon Russell and Snuff Garrett. They became sought after session musicians and song writers following their studio work on Dobie Gray's hit single "In Crowd" and the 1967 P.J. Proby single "Nicky Hoeky," which was also recorded by Country Music legends Bobbie Gentry and Duane Eddy, and many, many, others.
Lolly and Pat sang in several beach and surfing movies such as "It's a Bikini World" (1967) and performed on "Hollywood A Go Go". They also became members of The Shindigs, the house band on the legendary hit television program "Shindig", the biggest TV music show of the era, where they performed weekly with band members Leon Russell and Delaney Bramlett (the legendary mentor to Eric Clapton, and one half of the superb "Delaney and Bonnie).
Jimi Hendrix was a frequent guest at the Sunset Strip venues and was knocked over by the playing of the Brothers Vegas. Jimi stated that Lolly Vegas was the best guitarist he had ever heard and suggested that they create a band. Knowing they were Native Americans, Jimi suggested a name that reflected their roots. Thus, came the name "Redbone", a Cajun term for a mixed-race person.
The Vegas brothers met guitarist Tony Bellamy, collaborated on the Jim Ford album "Harlan County". Thereafter the trio hired drummer Pete DePoe and signed band Redbone to Epic Records in 1969.
Redbone was managed by Bumps Blackwell, who guided Little Richard and Sam Cooke to success. A self-titled double album was their debut in 1970, introducing their funky rock rhythms and distinctive percussion, which they called the "King Kong Beat."
On April 22, 1970 history was created when Redbone introduced the very first Earth Day to the world in Philadelphia with their truly great Native American song "Chant 13th Hour". This wonderful chanting song may well be one of the world's first examples of "World Music".
In 1972 they scored with "The Witch Queen of New Orleans," which reached #21 in the USA and #2 in the United Kingdom - and remains a Halloween favorite.
In 1973 Redbone released their most famous and iconic song, "Come And Get Your Love," on their fifth album, "Wovoka".
As a follow-up single, Redbone wanted to release "We Were All Wounded At Wounded Knee," a song about the 1890 massacre in South Dakota, where US cavalry forces killed about 200 Native Americans. Their label, Epic Records, felt that this could be a career killer and refused, although Epic did press copies that were distributed in Europe, where it became a Number 1 hit!
Instead, in the USA the guitar pounding "Wovoka" was released as the next single and charted for Redbone. That song is about the Paiute leader Wovoka, who introduced the "Ghost Dance" into the culture as a way of connecting souls and preserving their heritage after the tragic Wounded Knee massacre. A great, roaring, guitar riff propels this song.
STUDIO ALBUMS
Redbone released their debut album "Redbone" on Epic Records (EGP-501) in 1970.
Also in 1970 Redbone released their second album, "Potlatch" (Epic Records, E-30109),
Redbone's third album, "Message from a Drum" (Epic Records, KE-30815) was released in 1972, and featured their hit single and perennial Halloween favorite, "Witch Queen of New Orleans".
Redbone released their fourth album "Already Here" in 1972, featuring the wonderful songs "Fais Do" and "We Were All Wounded At Wounded Knee".
Redbone's fifth studio album "Wovoka" (Epic Records, KE-32462) was released in 1973.
Redbone released their sixth studio album "Beaded Drums through Turquoise Eyes" in 1974,which features the wonderful electric, riff-based "Only You and Rock and Roll", as well as "Suzi Girl", and the charted hit "One More Time" – which was also used recently in the motion picture "Person to Person".
Redbone then moved to RCA, where "Cycles", their seventh album, was released in 1977.
Redbone went on to release or appear on a number of compilation albums:
"The Best Of Redbone" (1976) was released on Dominion/K-Tel 833

"The Very Best Of Redbone" (1991) as Sony Music Distribution 4679362 [import]

"Greatest Songs" (Come And Get Your Love) (1995) as Curb 7774

"Golden Classics" (1996) as Collectables 5802.

"To The Bone" (1998) as Sony Music Special Products 2858

"Wet Willie and Redbone: Take 2' (2002) as Sony Music Special Products 5277

"The Essential Redbone" (2003) as Epic/Legacy 8607

"It's Your World: Redbone's Greatest Hits" (2009)

"Guardians of the Galaxy: Awesome Mix Vol. 1" (Original Motion Picture Soundtrack) (2014)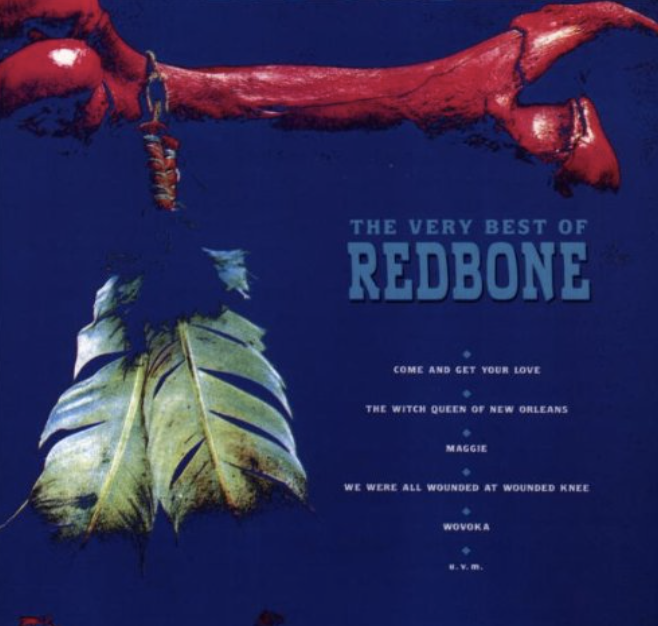 In 2014, "Come And Get Your Love" experienced a resurgence in popularity – and has been thoroughly embraced by a new generation - when it was featured in the Marvel Studios film Guardians of the Galaxy as the very first, and many say most important song, on a mixtape made for the film's hero, Peter Quill- "Starlord" It was also included on the film's soundtrack album, which reached Number 1 on the Billboard Top 200 chart, where it remains. When released as a single in 1974 it went certified Gold, selling well over one million copies, and it is a song that just does not fade away-- there have been over 300 million hits on YouTube alone.
Since 2015 "Come And Get Your Love" has been used as the theme song for Netflix produced cartoon series F is for Family and the TV series Big Shrimpin.
"Come And Get Your Love" plays a prominent role in Guardians of the Galaxy from Marvel Studios and is the first song on the soundtrack Awesome Mix: Vol. 1
Redbone songs have been used by numerous major national and international ad campaigns. Their songs have appeared in such motion pictures as:
Friday The 13th

Dick

The Postman

Person To Person

Grown Ups

Dance Me Outside

You Don't Know Jack

Swingtown

Lego Marvel Superheroes 2

Guardians of the Galaxy

Rumble: The Indians Who Rocked the World

Avengers: Endgame
Redbone is extensively profiled in the documentary motion picture "Rumble: The Indians Who Rocked the World"- in which Redbone's major contribution to and influence on Rock and Roll music and its performers is explored.
Redbone also achieved hit singles with "We Were All Wounded At Wounded Knee", "The Witch Queen of New Orleans", When You Got Trouble", "Wovoka", "Suzi Girl" and "Maggie", as well as issuing well received singles such as:
"Crazy Cajun Cakewalk Band" (1970) Epic

"Light As A Feather" (1971) Epic

"Message From A Drum" (1972) Epic

"Poison Ivy" (1972) Epic

"Hail" (1973) Epic

"Only You And Rock And Roll" (1974) Epic

"One More Time" (1974) Epic

"I've Got To Find The Right Woman" (1975) Epic

"Give Our Love Another Try" (1977) RCA
Redbone appeared as presenters at Native American Music Awards in 1998. Redbone's music has been covered by a huge number of successful and well-known artists including Bobbie Gentry, Tom Jones, Aretha Franklin, Tina Turner, Burton Cummings (Guess Who), P. J. Proby, Duane Eddy, Robert Palmer, Bobby Rush, The Ventures, Cindy Lauper, Mos Def, and Jim Ford, to name just a few.
Redbone was inducted into the Native American Music Association Hall of Fame in 2008, as well as the legendary New York Smithsonian Museum of the American Indian in 2013. Redbone is accredited in the Smithsonian as the first Native American rock/Cajun group to have a No. 1 single in the United States and internationally.
Redbone was also honored with vein painted on the largest mural in the U.S. in Fresno, California.
On August 30, 2014, Pat Vegas was honored with the Lifetime Achievement "Legend" Award from the "West Coast American Indian Music Awards."
Redbone's music has proven to be timeless and on the pulse of the human condition - listen to "One Monkey" which perfectly describe the grind of life on the road of a band; the many songs of the tragedy and hopes of the Native Americans, like "Message From A Drum", the beautiful "Chant 13th Hour", "We Were All Wounded At Wounded Knee"(checkout the amazing video of this on YouTube), "Custer Had it Coming" "Light As a Feather", "Wovoka", "Niki Hoeky", "Niji Trance"- and many, many more.
The master musicians of Redbone unquestionably belong in the Rock and Roll Hall of Fame for the trailblazing pride, music and conscious-raising and attitude the group has shown in singing of its heritage, for the lasting beauty of its music and for the incalculable lasting effect it has had on Rock, Cajun and World Music.